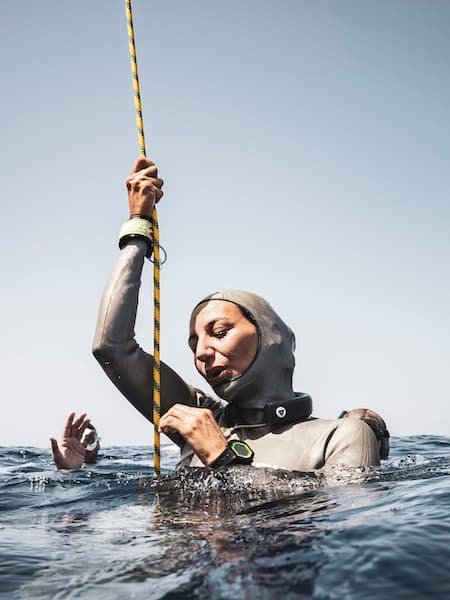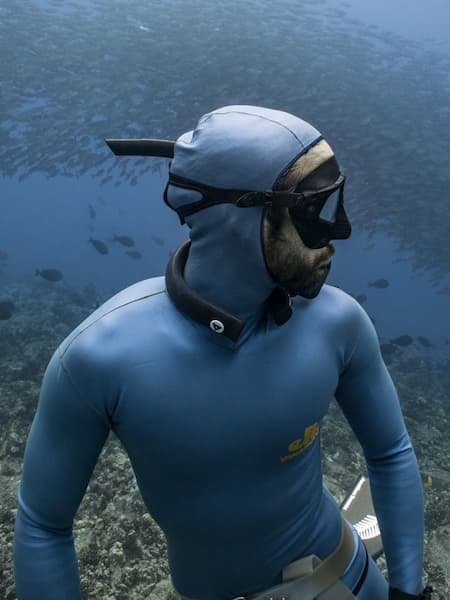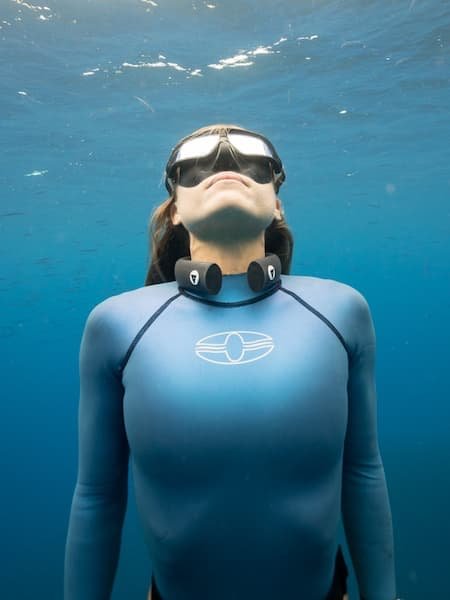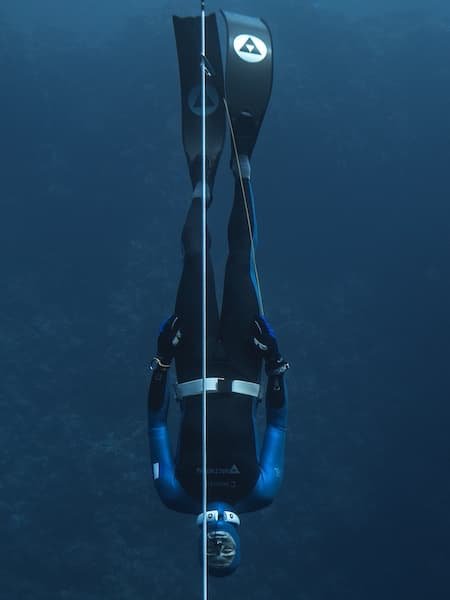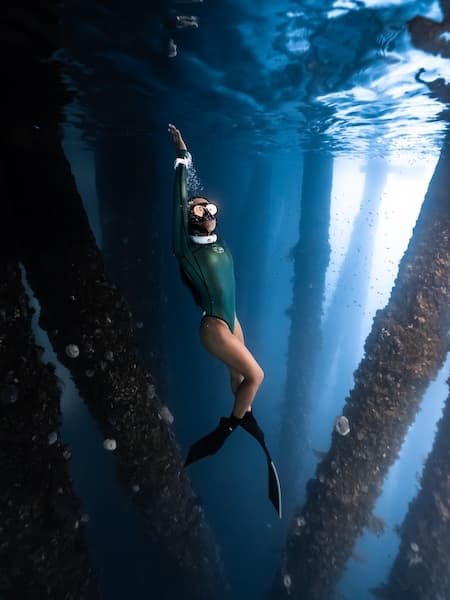 The Alchemy silicone freediving neck weight is designed to help you dive deeper, faster, and safer. Simply push on its sides, and watch it form with incredible precision around your neck. So adjustable, it practically disappears. Conceived to take advantage of next-level performance, its unreal hydrodynamics will enable you to glide seamlessly through the water, providing superior stability for all freediving disciplines. Whether at the pool or at sea, it pushes what's possible, bringing a new level of efficiency, simplicity, and convenience. When it comes to freediving gear, the less is the best.
Featuring our Responsive Memory Architecture, it provides mind-blowing comfort while it becomes an organic extension of your body that grips in place and follows your every move.
Utilizing aerospace-grade silicone and encapsulated lead, it is clearly tougher than any other neck weight of its class. The superiority of silicone, compared to common rubber, ensures stability, durability, and ease of use, while its sleek, innovative design guarantees that you'll always stand out from the crowd.
Traditionally, freedivers and spearos wear a belt with weight around their waist to set their buoyancy as needed. However, when we freedive, we want to place the weights in the most efficient position on our body. Compared to the use of a weight belt, a neck weight has significant advantages. Why? The weight is below our lungs during the descent, pulling us down, and resulting in an effortless dive, especially while freefalling.
As the shape of the neck weight can be formed according to one's needs, it will rest lightly on one's jaw, without disturbing the mouthfill.
On a smooth skin, nylon, lycra, or super stretch wetsuit, the neck weight's silicone sticks and won't move around.
To determine the appropriate size for you, measure the circumference of your neck and choose the size that corresponds most closely to your measurement. If you plan to wear a wetsuit while diving, be sure to wear it when taking your measurements.
The neck weight you purchased is specifically designed for diving and swimming purposes. Using it for any other activity outside of water is not recommended and may result in the product failing or getting damaged, leading to potential personal injury. It is important to avoid attempting to remove the silicone material and strip the lead core, as this can expose you to dangerous substances such as lead. If you notice any damage or stripping of the outer silicone material, refrain from using the neck weight. Make sure to dispose of it responsibly by taking it to certified recycling facilities that accept materials containing lead, similar to batteries.
To prepare the neck weight for use, gently widen the opening by pulling the sides while simultaneously twisting your wrists. Continue until the neck weight expands enough to fit comfortably around your neck. When removing the neck weight, reverse the same motion to close it securely. It is important to ensure that the neck weight maintains its circular shape throughout the opening and closing process. Avoid simply pulling the edges apart forcefully, as this can create a single stress point that acts as a hinge and potentially damage the lead core of the neck weight. It is not recommended to straighten or reshape the neck weight, as doing so may reduce its lifespan. However, if absolutely necessary, you can gradually and evenly expand the neck weight until it becomes straight. Remember to avoid bending it at sharp angles to prevent any damage. Please store it in its original shape.
The Alchemy neck weight is designed to require minimal maintenance. If cleaning becomes necessary, you can use dish soap and a sponge to clean it. Rinse thoroughly to restore the silicone's adhesive properties. For stubborn stains that cannot be removed with soap, you can use a cloth dampened with pure acetone (not nail polish remover). Acetone is safe to use as a cleaning agent for silicone and will not cause any damage. Remember to clean with soap and rinse thoroughly after using acetone. If you observe bubbles emerging from the neck weight while using it, this may indicate a potential leak in the outer silicone cover. It is important to identify the precise location of the bubble formation. Please contact us so we can assist you in assessing whether a repair or service is possible for your neck weight.
Lead time may vary from 1 to 5 working days, depending on our workload and stock levels.
Due to its intricate design, specialized components, and specific usage requirements that deviate from standard usage patterns, we regret to inform you that the Freediving Neck Weight is not eligible for warranty coverage.
Available Lengths: 40, 45, 50 cm

Available Buoyancy: 3 types per length

Negative Buoyancy: From 0.93kg to 1.55kg

Colors: Black / White

Material: Silicone Encapsulated Lead

Silicone Tensile Strength: 10 N/mm2

Silicone Density: 1.12 g/cm3

Logo: Engraved

Made in Greece (EU)
Throughout the years, some of the world's deepest freedivers have used
Alchemy fins to set countless World and National records.
Here's what they had to say about us.
NETHERLANDS
Ideal neck weight – fully adjustable for a perfect fit!
Verified Buyer
JAPAN
There is a little hardness, but it looks beautiful! My husband and I love it in different colors. I often shoot videos underwater, but it's very stylish.
Verified Buyer
JAPAN
The logo was removed from the first neck weight produced, but this one has been improved! But I like the previous design.
Verified Buyer
SOUTH KOREA
I felt that the advantage of this product is that it is easy to wear and the design. But in some indoor pool, they said not to wear it because as easy to wear, it is easy to remove so if I drop it, the floor will break. And If I wear it a long time, my collarbone is pressed down and it hurts. Maybe the size issue. Overall, I'm satisfied with the product, so I'm thinking of repurchasing it later:)
Verified Buyer
JAPAN
It looks great and easy to use, but I feel the price is a little bit high. That's why even if I think about buying a new one, I end up using a handmade one. Thank you ????
Verified Buyer
UNITED STATES
I love the fact that the neck weight is easy to put on and remove. However, I have a small neck circumference, I just wish we had heavier-weight options. Upgrading to a heavier but longer neck weight would not do me any good since it would be loose when put on.
Verified Buyer
Tereza Menzlova
31/05/2023
CZECH REPUBLIC
It's my favorite piece of equipment which I totally recommend to everyone. I thought it was unbreakable but last week the neck weight cracked and unfortunately it's not possible to use it anymore. However, I am planning to get another one because for deep diving it is the most comfortable weight.
Verified Buyer
Carmina Lanceta
31/05/2023
PHILIPPINES
I love the product, it fits perfectly and is good for line and pool training. Will definitely recommend this to others.
Verified Buyer
Darwin Katigbak
31/05/2023
PHILIPPINES
This is a really good neck weight as it is true to its measurement and weight and the material is high quality. Also, what I love about it is it doesn't make you feel choked especially when doing line training/depth. Some neck weights put pressure on my Adam's apple making me uncomfortable underwater. It is also slick in design, simple, yet cool to wear. It would be nice to have some more colors for aesthetic feels. Overall, I would always go with Alchemy as it ensures top design quality.
Verified Buyer
BRUNEI DARUSSALAM
The majority of us changed from traditional neck weight (from tire tube) to Alchemy neck weight. From there on, we never looked back. The neck weight is very convenient during dives. It gives you less of that choking feeling since it is malleable and doesn't interfere with our dives. You wouldn't even realize you have neck weight till you finish the session, is amazing.
Verified Buyer
Still using a DIY neck weight?
Watch this and level up!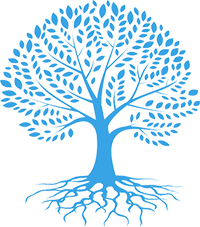 Reforest the World
We'll plant a tree for every product we sell via our eshop. A real tree, in a real planting project, in Madagascar.
SEE OUR FOREST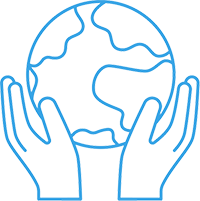 Sustainability
Do you want to learn more about our commitment to setting the highest standards of sustainability in freediving?
OUR WEBSITE IS CO2 NEUTRAL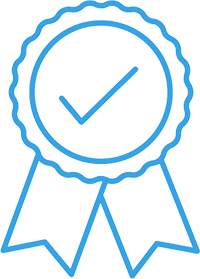 Our products are made with the highest quality materials
and craftsmanship. Alchemy fins purchased from an
authorized retailer are fully warranted against defects in
materials and workmanship for 5 years.
See terms & conditions.