Alchemy athlete Sheena McNally just broke a 12 year old NR for Canada in CWT, diving to a staggering -89m. Here's what she wrote on her Instagram account:
"I've been a bit quiet on social media as I've been working hard and trying to stay cool for #blueelement2019. But today I did something I want to share: I broke the Canadian record in CWT, which has stood for more than 12 years! This dive to 89m makes me the deepest Canadian self-powered woman and also the deepest in North America, which is just nuts, really. I knew I could do it when I first beat it in training earlier this year after a long time stuck with the monofin, but it has been a lot of hard work for me to get to the point where I could do it in a comp... I'm so stoked. I am sure I will have more to say later, but for now, time to rest, regroup, and have a think about what I want to do for the remainder of the comp!

Thanks to my training buddies, especially Jon and Jimmy, and to @soufriereguesthouse for supporting my stay here in Dominica, as I simply couldn't have trained here without them. Thanks also to my freedive home base, @freediveutila (this is the beautiful logo on my monofin), for believing in me ages ago, before I did! @bikini_kiki for awesome coaching at the surface and to my family for always supporting me, and being cool with me doing this crazy thing! And @blueelementfreediving for providing the perfect stomping grounds"!


Well Played Sheena!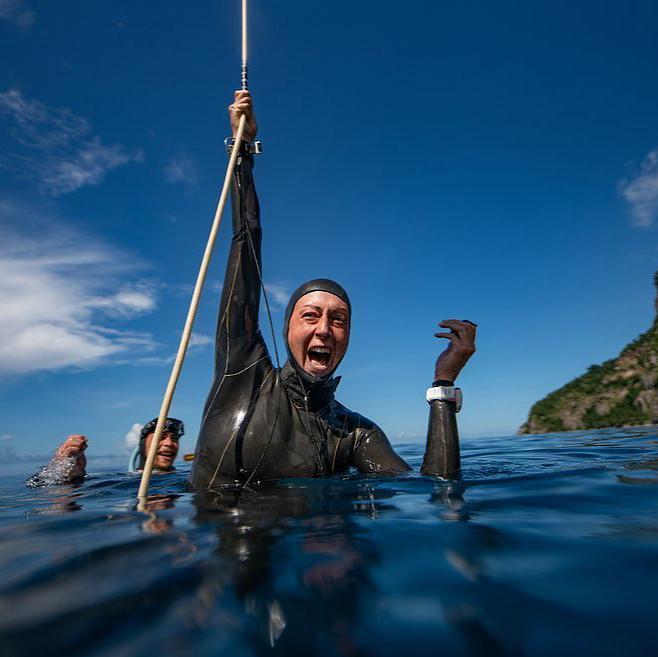 Learn To Duck Dive With Canada's Deepest Woman